The Anderson Firm P.C. of Jersey City was founded by Trevor Anderson as a vehicle to pursue his purpose of unlocking the passions and potential of others. Through the Anderson Firm, he has created a law firm uniquely focused on integrating business advisory, performance coaching and legal guidance into a single platform that delivers massive value to its clients. In turn, he envisions a world where businesses are filled with high performing and fulfilled teams and where business founders, owners and executives fully realize the purpose of their businesses – to leave their lasting mark on our society.
We work intimately with business and healthcare leaders across many industries to propel them to the next level. At TAF, we safeguard your operations while creating the framework upon which you can achieve strategic outcomes and unparalleled results.
Trevor Anderson, Managing Shareholder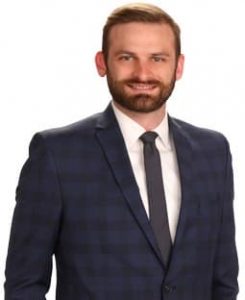 Trevor began his legal career in Atlanta, Georgia after graduating from Emory Law School. Since then, he has amassed a wealth of experience and insight representing and advising businesses and entrepreneurs of all sizes on both legal and strategic matters. As a consultant with Ernst & Young, Trevor advised and guided Fortune 100 companies on business issues ranging from performance optimization, development and execution of strategic initiatives, and analyzing business risks. He has carried that acumen into his legal practice where he provides advisory and legal work to a range of clients, including serial entrepreneurs, startups, physician groups, ambulatory surgery centers, restaurants, health and wellness facilities and e-commerce businesses. He assists clients on a range of issues, including entity formation, healthcare fraud and abuse compliance, corporate governance, insurer reimbursement disputes, contract negotiations, healthcare practice and facility transactions, mergers, acquisitions, divestitures, and investor relations.
Trevor is singularly focused on providing massive value to his clients by providing legal solutions that are sensitive to and promote business goals. By combining his consulting and advisory experience to his healthcare and corporate law practice, he is able to eliminate the need for multiple professionals, and multiple expenses by playing the roles of outside counsel and business advisor.
Accolades/Education:
Wake Forest University, B.A. in Philosophy
Emory University School of Law, Certificate in Transactional Law Skills
Professional Risk Managers' International Association, Associate PRM Certificate
Business Networking International, President of Jersey City Chapter (2020)
Bar Admissions:
New Jersey
New York
Georgia
Sample Experience:
Mergers and Acquisitions: Healthcare
Represented multidisciplinary group providing concierge healthcare services in the formation of a joint venture and management services organization and the subsequent sale of interests therein.
Represented physician in acquisition of minority stake in a New Jersey ambulatory surgical center, including negotiating acquisition documents, drafting resolutions, conducting due diligence and resolving potential Federal Anti-Kickback and Stark Law issues.
Represented physician group in the divestiture of its interests in a multi-disciplinary joint venture.
Represented chiropractic practice in the sale of its practice to a corporate consolidator.
Represented dermatology practice in the acquisition of a competing California practice.
Represented periodontal practice in the acquisition of a dental practice.
Represented practice in the sale of two practices to a private equity backed buyer.
Represented practice in the sale of three practices to a private equity backed buyer.
Represented veterinarian practice in the acquisition of a competing veterinarian practice.
Mergers and Acquisitions: General
Represented a retail hardware store in its sale to a regional consolidator. Responsibilities included negotiating and drafting the LOI, drafting the sale documents, preparing all schedules, drafting seller consents and resolutions and conducting due diligence through closing.
Represented a regional auto parts chain in the acquisition of a competing auto parts store. Responsibilities included negotiating and drafting the LOI, drafting the sale documents, preparing all schedules, drafting seller consents and resolutions and conducting due diligence through closing.
Represented media and technology company in the following transactions:

Sale of 83(b) profits interests to key employee;
IRC Section 355 split-off of media assets to minority shareholder; and
Buyout of existing ESOP.
Structured Finance
Represented an Israeli private equity firm in a $2 million structured finance deal requiring the formation of a special purpose entity, revision of the master credit agreement, revision of the receivables purchase agreement, preparation of all schedules, drafting borrower consents and resolutions and conducting due diligence through closing.
Represented real estate holding company in restructuring $74 million of senior debt to maintain bankruptcy remote status.
Business Advisory and Consulting
Serve as outside counsel for several ambulatory care facilities, multidisciplinary healthcare practices and licensed ambulatory healthcare facilities
Executed a Risk Assessment of the risk department of a Fortune 100 company that led to its global restructuring

Interviewed over 60 client stakeholders to analyze the current operating environment
Reviewed over 140 client policies, procedures, vendor agreements, and committee charters
Managed a team of 3 resources in the drafting and review of our 150 page assessment synthesizing the results of document review and client interviews
Coordinated with over 10 subject matter experts and 5 lines of business in the development of the Assessment
Managed and reported on the financial metrics of the engagement, including resource costs, cash flow, and margins

Advised a Fortune 100 client in the rollout of a digital transformation strategy

Analyzed cost and efficiency trends for back-office resources identified in financial statements
Identified 3 areas for cost reduction that complemented the rollout of the digital transformation strategy
Presented the cost-reduction opportunities to senior management

Increased claim submission compliance levels of multidisciplinary healthcare resulting in its removal from an audit and increased percentage of reimbursements
Provided keynote presentation to small business owners – "Managing vs. Leading your team"
Zachary J Levy, Attorney
Zach began his legal career as a real estate finance attorney focused on lender representation for large-scale real estate development projects, both locally (New York Metropolitan area) and nationally. As an attorney for King & Spalding, Zach represented a wide spectrum of clientele from large, nationally-based institutional banking lenders to mid-sized, regional debt funds on a variety of matters surrounding real estate development financing. Driven by the fast-paced and cutthroat nature of the industry, Zach thrived for many years in this capacity representing some of the largest and most aggressive real estate lenders in the country, however, like many of those in similar sectors he gradually grew disheartened by the corporate system focused on his sole value of delivering billable hours. Empowered by an insatiable desire to better not only his own life but the lives of those around him, Zach joined the Anderson Firm, P.C. out of a true belief in its mission to change the traditional law firm relationship. Motivated by genuine human connections, Zach is passionate about understanding not only the business-side of his professional relationships but the sometimes-subconscious needs of his clients in order to construct creative and value-driven solutions to complicated issues. Inspired by the growing trends of entrepreneurs sprouting up across all major business sectors and the empowerment of the individual that this signifies, Zach thrives off of helping his clients obtain true professional independence.
Education:
Benjamin N. Cardozo School of Law, Yeshiva University, J.D.
American University, B.A. in Law & Society
Bar Admission:
Sample Experience:
Real Estate Finance
Represented an international banking institution, as administrative agent and lead-lender, in connection with a $415M syndicated construction loan for the development of a 58-story, Class-A multi-family rental project located in Hudson Yards in lower Manhattan.
Represented a large institutional lender, in connection with a $29,500,000 construction loan for the development of a mixed-use residential/commercial building in Queens, New York.
Represented a mid-sized, national debt fund, as lender, in connection with a $15,800,000 loan for the development and operation of a residential building located in Bedford, Texas.
Represented a large real estate investment firm, as lender, in connection with a $64,900,000 construction loan for the development of a Marriott Hotel brand hotel located in San Diego, California that consisted of both a senior loan and mezzanine loan (both held by my client).
Represented a mid-sized, national debt fund, as lender, in connection with a $52,000,000 loan for the acquisition and development of a portfolio of eight (8) residential properties located in Brooklyn, New York.
Represented commercial mortgage-backed security lenders in connection with the sale and securitization of commercial mortgage loans for the secondary market.
Business Advisory and Consulting
Represented an energy sector hedge fund in connection with its formation and operations

Drafted all internal corporate documentation, formed the entity and registered it in a foreign jurisdiction in order to begin operations
Drafted the fund's confidential private placement memorandum and accompanying documentation
Analyzed current regulatory updates in order to advise on strategies for services offered
Represented a club promoter/restauranteur in connection with forming a new corporate venture

Drafted corporate by-laws, shareholder agreements and board resolutions
Strategized unique and creative solutions for tax realization issues created by New Jersey local laws

Represented a healthcare provider in connection with a dispute with a third-party vendor over statutorily required maintenance standards of high-powered radiology equipment